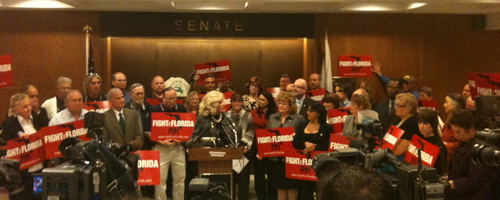 (Tallahassee, FL) Working Floridians today said the Legislatures' scheme to hand over state prisons to private companies will hurt families and communities, while increasing the dangers posed by violent criminals.
During a news conference at the Capitol, the potential harm of privatization was described by those likely to be affected by it: a teacher, a correctional officer, and a law enforcement officer. The delegation was joined by Sen. Mike Fasano, a New Port Richey Republican, who has objected to the rush to privatize the state's correctional facilities.
The Senate is considering legislation that would privatize nearly half of all Florida's correctional institutions without a cost-benefit analysis or public oversight. Lawmakers are also considering privatizing other inherently governmental functions, such as education, public health and other kinds of law enforcement.
Penny Reeder, a correctional officer from Starke, said it would be dangerous to privatize prisons.
"Lawmakers want to privatize prisons in 18 counties without doing their homework first," said Penny Reeder. "We're proud to be the first line of defense against violent criminals who could harm our family, friends and neighbors. We're afraid of what will happen to families in Florida if our correctional facilities are turned over to for-profit corporations. Surrounding communities will be less safe, but hardworking people will lose their jobs and small businesses will close. It isn't right and it isn't fair to do this to Florida just so a prison company can make more money."
K.T. Caldwell, a teacher from Seminole County, said jobs and education are taking a back seat to backroom deals.
"Tallahassee politicians want to change the rules to hide the economic impact of privatization from voters so they can reward special interests with contracts even when they cost more and are less efficient," said K.T. Caldwell, a Seminole County teacher. "They want us to just trust them to do the right thing as they siphon more dollars out of local communities with privatization schemes," she said.
Lori Goodwin, a deputy sheriff, said her responsibility is to provide safety for Florida's communities.
"It seems as if the safety of Florida's families has become secondary," she said. "I feel that it is never a good public policy to put profit margins over the public's safety. I am concerned that as we move to privatize our prisons we will further strain our local public safety budgets that have already been cut by 40 percent. That translates to fewer officers on the streets and fewer officers available to pick up the pieces if these corporations fail. When inmates from these privatized facilities escape it will be our job to assist in the capture, which means less time and money spent on your neighborhood and your families' safety. I would like to see some assurances that these expected cost savings are really a savings and not a cost shift."
Contact: Josh Anijar
media@fightforflorida.com
Cell 850-228-9841
(Visited 82 times, 1 visits today)
Your Thoughts?