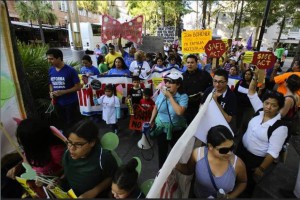 LOOKING BACK, hundreds from the Orlando community took action demanding Speaker Boehner "Clear Our Path" for a vote on Comprehensive Immigration Reform #CIR.
HIGHLIGHTS:
Orlando Sentinel: http://bit.ly/1dNcvaM
WFTV Channel 9: http://bit.ly/1aooydn
WESH 2 News: http://bit.ly/1cqA9tZ
WKMG Local 6: http://bit.ly/17sAsCS
News 13: http://bit.ly/1itS4xi
"The loud chanting attracted the attention of students at the law school, who stood on the corner watching and taking pictures and video on cellphones.
Student Keisha Robinson, 28, said she applauded the protesters.
"Sometimes you have to stand or sit for something you believe in," Robinson said. "This conversation needs to happen."
(Visited 44 times, 1 visits today)
Your Thoughts?