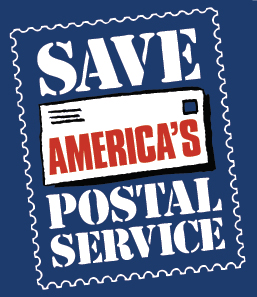 On Tuesday, September 27, from 4 p.m. to 5:30 p.m. (local time), members of the four employee unions of the United States Postal Service—
• American Postal Workers Union
• National Association of Letter Carriers
• National Postal Mail Handlers Union
• National Rural Letter Carriers' Association
—will join forces with members of our communities to send a message to the nation and its Congress.
We are proud to announce the participation of the National Association of Postal Supervisors (NAPS) in the effort to Save America's Postal Service. Click here to read their entire statement.
During these informational rallies, we will visit the home office of each member of the House of Representatives.
We will thank those members who have signed on as co-sponsors of H.R. 1351, a bill that addresses the financial crisis facing the Postal Service.
And we will encourage those who have not signed as co-sponsors of H.R. 1351 to do so.
Click here to sign the petition to Save America's Postal Service!
(Visited 102 times, 1 visits today)
Your Thoughts?