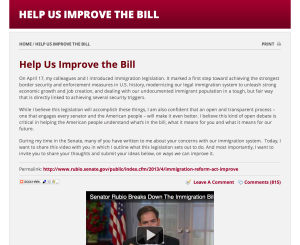 Senator Rubio has opened up a dialogue on his new immigration reform website inviting public input.
TAKE ACTION by telling Rubio what true immigration reform looks like and add your voice to the millions who support this effort!
CLICK HERE TO TAKE ACTION AND LEAVE A MESSAGE IN SUPPORT OF CIR NOW!
Remember what WE WANT for ALL workers:
We want to make sure the border security triggers do not thwart citizenship for the 11 million.
We want immigrant workers to be fairly paid and fully protected so they aren't pitted against American workers in a way that undermines the wages and working conditions of all.
We want families, including adult children of all ages and the siblings of U.S. citizens, to be given a chance to reunite with loved ones.
We want the definition of families to include LGBT families.
We want to roll back harsh detention and end deportation policies, except for felons, and stop the separation of families.
We want to ensure that immigration enforcement is properly checked by safeguards, accountability and meaningful due process.
We want immigrants from all areas of the world, including regions historically underrepresented, to be given an equitable opportunity to be admitted to America.
(Visited 46 times, 1 visits today)
Your Thoughts?