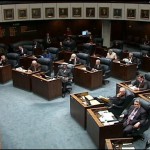 Yesterday, the Florida Senate rejected SB 2038, Gov. Rick Scott's prison privatization scheme. The victory was the clear result of an outpouring of public support for correctional officers and prison workers along with disgust over private prison contractors' attempts to subvert our democracy.
Opposition to the privatization scheme was heavily bipartisan – with nine Republicans joining with all twelve Democrats in voting against SB 2038.
Here's the final vote breakdown:
NO (21)
Braynon (D)
Bullard (D)
Dean (R)
Diaz de la Portilla (R)
Dockery (R)
Evers (R)
Fasano (R)
Gibson (D)
Jones (R)
Joyner (D)
Latvala (R)
Margolis (D)
Montford (D)
Oelrich (R)
Rich (D)
Ring (D)
Sachs (D)
Siplin (D)
Smith (D)
Sobel (D)
Storms (R)
YES (19)
Alexander (R)
Altman (R)
Benaquisto (R)
Bennett (R)
Bogdanoff (R)
Detert (R)
Flores (R)
Gaetz (R)
Garcia (R)
Gardner (R)
Haridopolos (R)
Hays (R)
Lynn (R)
Negron (R)
Norman (R)
Richter (R)
Simmons (R)
Thrasher (R)
Wise (R)
(Visited 51 times, 1 visits today)
Your Thoughts?