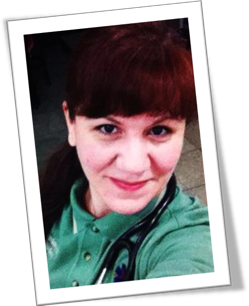 "When you live in poverty, America shines like a beacon of hope.  In Peru, you are either very, very rich or super-duper poor.  Needless-to-say, we were the latter.  My mother, my two siblings and I lived in a one-room apartment that didn't even have a real roof.  We came to America because we believed that if one worked hard, one could build a secure life for their family.   When I was 10, I left Peru to join my father (who is a naturalized citizen) in Virginia and eventually moved to New Jersey to live with my mother and grandmother (also naturalized citizens).  I worked full-time through high school to help support my family.  As soon as I saved enough money to pay all the fees, I became an American citizen."
In 1994, Darinka moved to Florida where she worked as a bank teller and loan officer.  A few years later she fell in love and was engaged to be married, but became pregnant with her son – whom due to unforeseen medical problems, was born too early as a micro-preemie weighing just one pound.  As is the fate of many parents who care for children with special needs, her relationship did not survive, and Darinka was left virtually on her own to care for her premature infant. Caring for him had become so complicated and extenuating medically, that it did not allow her to hold on to her position at the bank.  Fortunately for her however, having this incredible experience and 'miracle baby' crystallized for her a life-long love of medicine and deeply inspired her to help others.  As soon as her son was well enough to attend daycare, she went back to school – with a scholarship award and student loans, she completed her bachelor's degree in microbiology.  She worked as a lab assistant in an academic lab and a university research lab to make ends meet, and was eventually recruited by Scripps Florida.  She worked as a Research Assistant for five years, and has recently decided to return to school full-time to pursue a degree as a nurse practitioner so she can help people in a more personal and direct manner.   She received her EMT license and currently volunteers her time and skills for several public health organizations while she pursues her nursing degree.  She volunteers at the Jupiter Free Clinic, which serves Floridians who fall 200% below the poverty line, where she assists doctors and translates for Spanish-speaking patients.  She also volunteers in the Emergency Room and Neonatal Intensive Care Unit (NICU) at two separate hospitals in her community.  Darinka's 'miracle baby' who is now a teenager and honor student in high school, also volunteers his time in the NICU where he "wants to help preemie babies born just like him".
"I'm not very political but I believe that regardless of nationality, race, color, or gender, every human being deserves the same level of medical care.  The immigration system is so broken that it has created a secondary class of Floridians and a shadow economy that keeps families in poverty.  These families came here for a better life, to escape poverty, only to find themselves victims of a system that treats them as disposable. This is immoral.  America is supposed to be the land of opportunity where anyone with determination can achieve their dream.  I volunteer in my community because my dream is to help people.  After I earn my degree, I intend to pursue a career in community health and will continue to volunteer my time to those who have yet to achieve their dream."
(Visited 199 times, 2 visits today)
Your Thoughts?