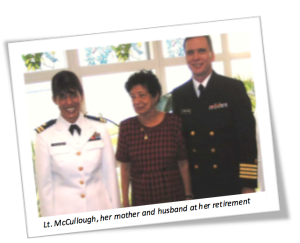 "La lucha de nuestra generacion – this is the battle of our generation," says Lieutenant Elena McCullough about the need for comprehensive immigration reform.  "This mission requires people with great courage and determination to make it happen.  They will need to work together to find a path forward.  As Americans, we believe that we are a nation of values, founded on an ideal – that all people have rights.  We believe that if you work hard and do your part, you will receive the blessings of liberty.  Yet, for nearly 1 million hard working Floridians, these blessings are withheld because of a broken immigration system.  Serving in the military taught me that real leadership means looking at the bigger picture and doing what is in the best interest of the country as a whole.  I can think of no mission greater than enfranchising those who are Americans in every way but paper."
Lt. McCullough is a twenty-four year veteran of the United States Coast Guard. She was born in the Dominican Republic and at sixteen came to live with her aunt in California. She joined the United States Coast Guard the week of her 18th birthday and proudly became a US citizen three years later. It was in the military that she discovered that with hard work any dream could become reality. After basic training, she studied, worked tirelessly and was promoted steadily through the ranks, becoming an officer in 1994. She has a degree in Psychology and is married with two children. Although retired from the military, she still serves her community by volunteering to help those less fortunate.
"My military training taught me two important principles:  First, to face uncertain situations unafraid and with an open mind.  A closed mind is less flexible and fear clouds judgment.  Second, regardless of how complex a problem looks, it can always be broken down into smaller pieces and solved.   I hope that our elected leaders will have the mettle it takes to approach immigration reform with an open mind and create a road map to citizenship for all aspiring Americans. "
(Visited 217 times, 1 visits today)
Your Thoughts?