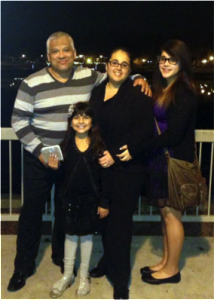 "Senseless, needless suffering and crushing fear," is how Melissa McGuire-Maniau describes her families' experience with the immigration system.  "For nearly eight long years my family was victimized by a bureaucracy that neither cared nor worked.   Our seven-year-old daughter still wakes up crying with nightmares about them taking her daddy away.  He did everything right.  He is the son of a U.S. citizen, married to a U.S. citizen and has children who are U.S. citizens, but none of that protected him from a combination of bad advice, innocent errors and a broken system that couldn't see past his country of birth.  We made it through, and after nearly 28 years, Hector only has three more years to wait before he can apply for full citizenship."
Melissa and Hector Maniau are a typical suburban Orlando family.  They were introduced by Hector's sister and fell in love. They have three children with the youngest just seven years old.  Hector works full time while Melissa is a full time student at Rollins College.  As a veteran of the Air Force, Melissa has returned to college to finish her degree and eventually wants to become an immigration attorney.  She dreams of helping others the way her family was finally helped.
Imagine your family suffering through years of turmoil, uncertainty and fear.  Imagine so many mistakes magnified one upon another, that straightening it out takes eight years, tens of thousands of dollars, one congressional representative and one senator before you can even begin to hope to stay with your loved ones.  This is what it was like for Hector and his family.  This is what it is like for countless other families struggling to stay together, who are caught-up in an immigration system that often tears apart the very dreams that brought them here in the first place.
It wouldn't be so tragic if it was an isolated incident but unfortunately, the experience of the Maniau's is more typical than we care to imagine.  The story of families being torn apart, living under government surveillance, treated like criminals and imprisoned without cause is happening right here, in the land of the free, every day.
For Melissa and Hector they are just happy to be together and off of the rollercoaster of emotions. Melissa had this observation about their experience.  "As an Airman First Class in the Air Force, I served for a nation of values, founded on an idea – that all men and women are created equal.  And although my faith in this country has been tested, I still believe that we hold these truths to be self-evident that all people have rights and that our treatment of immigrants reflects our commitment to the values that define us as Americans.  We believe families should stay together, that we should look out for each other and that hard work will be rewarded.  That is why all Americans who love this country as much as we do, deserve a common sense immigration process and not this mess we have now."