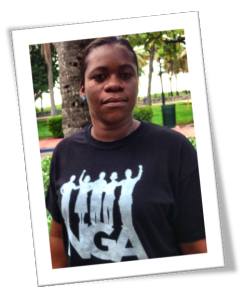 "I went into debt to come to the U.S. as a guest with a dream. A dream that I could provide more than just the bare necessities, but a real future for my daughters." reminisced Shellion Parris.  "Jamaica is a very poor country. As a kindergarten teacher and single mother, I struggle to raise my two daughters (now 10 and 13). Leaving Jamaica was my only hope to provide a better life for my children. An opportunity arose to work in America for a contractor known as Mr. Clean. My written contract promised a good job cleaning luxury condo properties in the US. A job that would pay me at least a minimum wage, with furnished housing, medical care and enough money left over to send to my girls.  All I would have to do is obtain an H-2B Guest Worker Visa and pay his recruitment fees. My family and friends all pitched in and I took out a loan from a local bank to cover the $2000.00 in fees.  I haven't seen my children since April when I left for the US with a heart filled with hope. Today, I find those hopes crushed and promises forgotten."
Shellion is one of the 150 guest workers on H-2B visas recruited in Jamaica to work for Mister Clean Laundry and Cleaning Services who are currently striking because of the horrific working conditions they have had to endure. Violating their written contract and the law, Mr. Clean forced these guest workers to pay up to $375.00 each per month to live in company housing (sleeping on the floor, 13-15 people in a 2-bedroom apartment) and pay for their uniforms (simple t-shirts that cost $70.00) leaving many of them at the end of the week "in debt" to Mr. Clean. When the workers complained demanding their pay and hours they were promised, Mr. Clean barraged them with threats of arrest and deportation.  With paychecks close to zero, the workers were trapped in a nightmare of modern indentured servitude. Through the National Guestworker Alliance, workers like Shellion are organizing and sharing their stories in hopes that even if it's too late for them, these types of abuses can be stopped with meaningful reform.
"I am speaking out because the abuses my fellow employees and I have had to endure do not represent the freedom and opportunity that we dreamed about. No human should be treated this way. If there was comprehensive immigration reform, with a pathway to citizenship and strong worker protections, Mr. Clean would never have been able to take advantage of our desperation to provide for our families.  I still believe America is the land of opportunity but without reform, it will continue to be the home of exploitation and guestworker abuse."
(Visited 167 times, 1 visits today)
Your Thoughts?