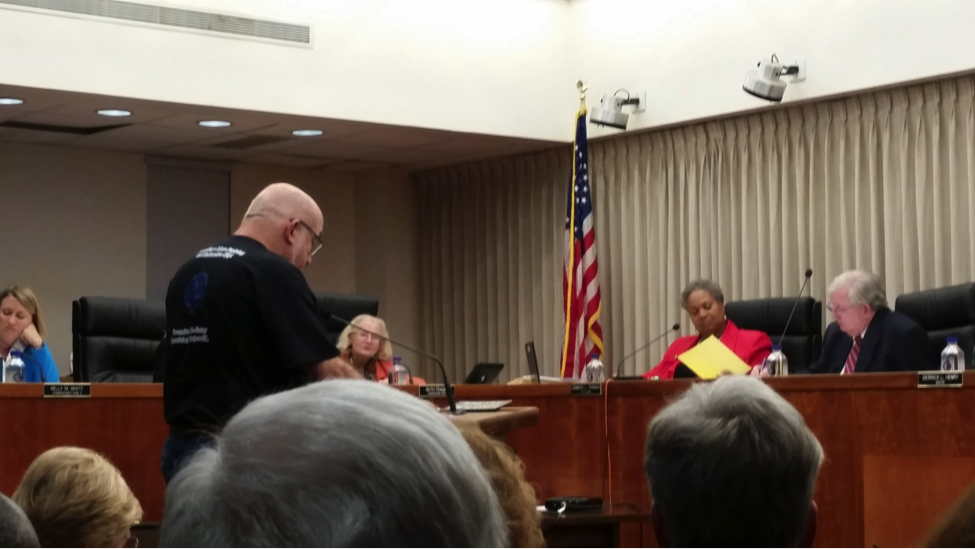 Main Street Alliance of Florida members travelled to Daytona Beach to join other community leaders in making a presentation to the Daytona City Commission on "ban the box" legislation. The legislation would remove the question, "Have you ever been convicted of a felony," from job applications allowing applicants to be considered based on their experience and qualifications. The legislation was initiated by the Vincentian Re-Entry Organizing Project and small business owners from across Florida voiced their support for the measure.
Our members seek the most talented and hardest working candidates to fill their positions, regardless of criminal background. They are committed to giving all applicants a fair shot at employment and allowing them to interview for open positions without discrimination or pre-judgment. "Ban the box" would not eliminate background checks, but it would allow an applicant to address their previous convictions in person during the interview process.
Leader Paul Heroux told the commission, "I've heard people say that 'ban the box' is an attempt by people like me to hide our criminal records. I am not interested in hiding my record. I just want the chance to have that conversation." Heroux is a veteran of the Florida prison system and started his own construction business after he was unable to find employment after his release.
Members who were unable to attend the meeting provided comments to be read to the commission. Ricardo McQueen wrote, "When a prisoner is released into a society that won't allow them a fair chance at employment it is like they were never set free. They paid their debt to society, they served their time, now they deserve a chance to provide for their families and better their lives. Denying employment opportunities is a life-long sentence that the judge or jury never ordered." McQueen owns Food Health and Environmental Safety and volunteers his time to help new entrepreneurs launch their businesses. Many of the aspiring business owners McQueen works with have previous felony convictions or are from neighborhoods such as Pine Hills and Parramore that are disproportionately affected by discriminatory hiring practices.
Fair hiring practices aren't just good for those affected by discrimination, they are also good for the economy. 12 states have passed statewide fair hiring legislation and studies show those states are better when it comes to attaining living wages. The Alliance for a Just Society recently released their latest job gap report, "Low Wage Nation". The report ranks states on job openings that pay at least a $15 an hour wage. 10 of the 12 states that have passed "ban the box" legislation rank in the top 15 nationally, while Florida sits near the bottom of the list at 40th.
Daytona Beach Mayor Derrick Henry told the overflowing room at the Daytona City Hall that "ban the box" was legislation that he personally supported and called on the Commissioners to come to an agreement on this issue soon. Alliance members will continue to speak out in favor of the legislation in Daytona Beach and plan to turn their efforts towards fair hiring legislation in Orlando in the coming months.
For more information about the Alliance for a Just Society's Job Gap Report visit http://thejobgap.org/ .
Visit the Main Street Alliance to learn about their work in Florida. http://mainstreetalliance.org/florida/
Stephen Rouzer is the state organizer for the Main Street Alliance of Florida.