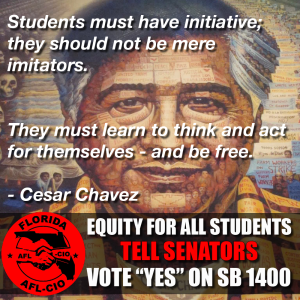 LEG ALERT: Tell Senate Judiciary to VOTE "YES" ON SB 1400.
Invest in Florida's future and pass tuition equity for all students!
TAKE ACTION: http://bit.ly/1kirVDT
"Tomorrow, April 1st, the Senate Judiciary Committee will be voting on SB 1400, sponsored by Senator Jack Latvala. This legislation would create an equal standard for accessing higher education in Florida. Currently, Florida's best and brightest undocumented students, who were brought to our state by no fault of their own and have been educated in our schools, are being denied a college education by having to pay up to four times as much for tuition. Universities and colleges are largely funded through the Florida sales tax. Immigrants, like everyone else, pay sales taxes; which means they are funding a service they cannot utilize. Ensuring that ALL students who graduated from our high schools are eligible for in-state tuition is a fair and reasonable investment in our future. "
(Visited 243 times, 1 visits today)
Your Thoughts?