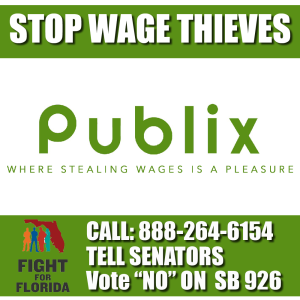 LEG ALERT: Rules Committee Rams Through Wage Theft Preemption. SB 926 heads to SENATE FLOOR!
CALL: 888-264-6154
TAKE ACTION: http://bit.ly/1mqADnC
PETITION: http://bit.ly/STOPWAGETHEFT
READ MORE: http://bit.ly/1dVbgYr
"Late Wednesday, the Senate Rules Committee rammed through a DISASTROUS amendment to SB 926, that reverts the language of the bill to the same "zombie-like" back from the dead legislation working families killed last year. On the record, Legislators claimed this amendment was a compromise. Off the record, working families were NEVER offered a seat at the table. Legislators decided rather than provide an effective mechanism for victims of wage theft to recover their stolen wages, they would make it EVEN HARDER for those victims than ever before. This move by Big Retail and their allies is nothing more than a direct and DELIBERATE ATTACK on working people and home rule by blocking local governments from passing ANY effective wage theft ordinances. Over 100 million dollars in wages are stolen every year in the state of Florida, and corporations like Macy's, Publix, Office Depot and Play it Again Sports are using the Florida Retail Federation to make sure this shadow economy keeps booming. "
(Visited 455 times, 1 visits today)
Your Thoughts?