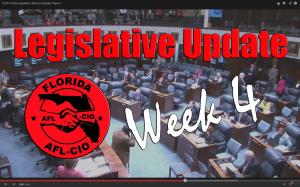 Big Retail couldn't believe it…
Watch workers win against wage theft in this week's #FLsession update: http://bit.ly/1gBUlts
"Welcome to the fourth installment of the 2014 Florida Legislative Session Update series. Every week we'll put you into the halls of the capitol to see the legislative process in action.
This week's update covers: back from the dead wage theft legislation, updates to the Florida civil rights amendment and testimonials from activists across the state.
For more information on how to join the Working Families Lobby Corps please visit: http://www.flaflcio.org/?q=lobby"
(Visited 61 times, 1 visits today)
Your Thoughts?