If you've spent any significant amount of time in Florida, you are intimately familiar with a place known as the self-proclaimed "Most Magical Place on Earth." Walt Disney World in Lake Buena Vista (proper Central Floridians know that it isn't technically in Orlando) is beloved by natives and tourists alike and visited, on average, by 52.5 million people annually [1]. Magic Kingdom alone accounts for 19.3 million annual guests making it the most visited theme park on the face of the Earth [2]. Worldwide, the parks-and-resorts division of Disney reported a 6% boost in revenue over the previous year at a modest $3.8 billion. [3]
That's a lot of magic. But, beneath that shiny veneer of profit and family fun, the situation isn't as magical as The Mouse would have you believe.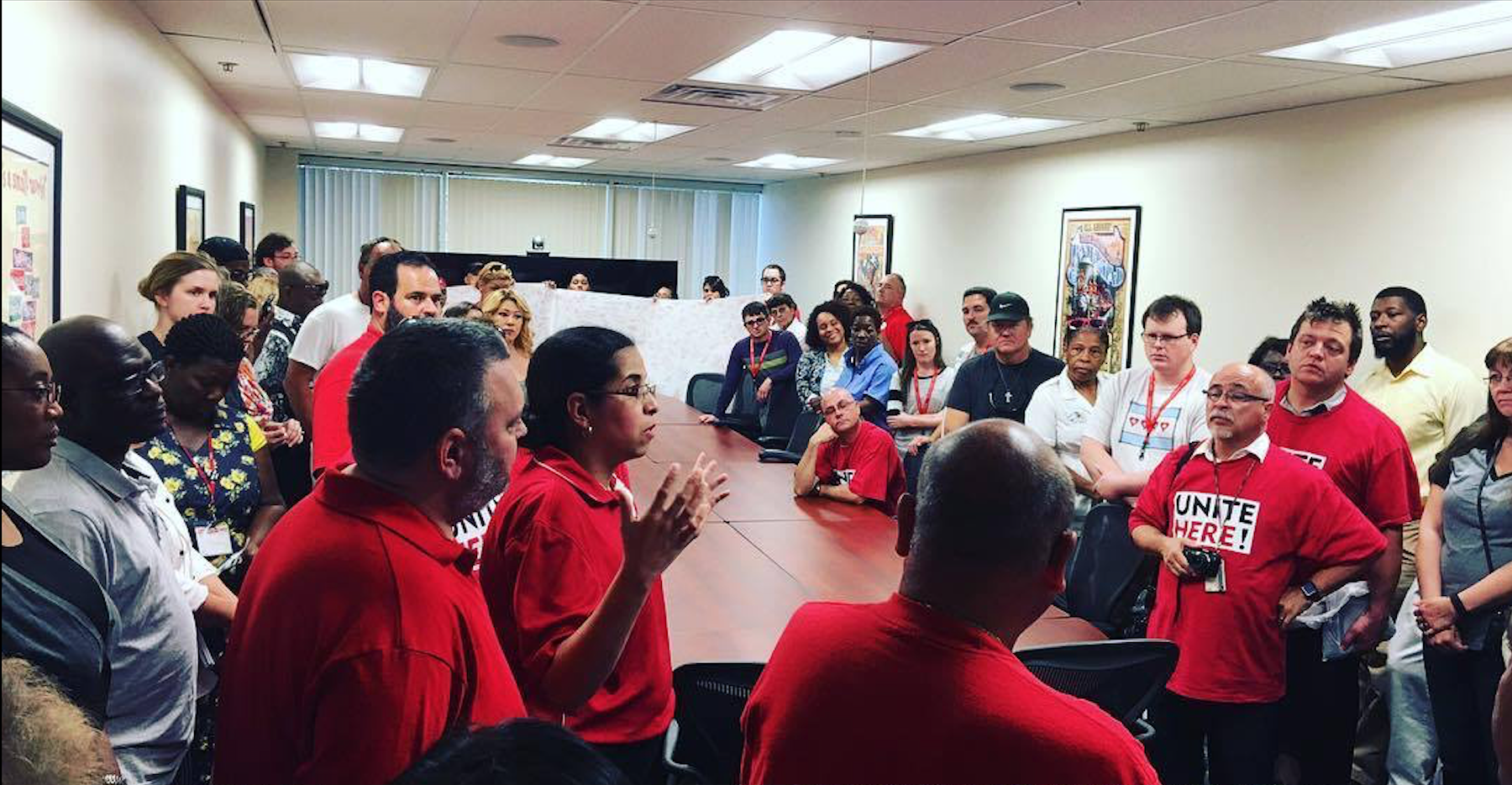 With that much activity and attendance, one would assume that it must take nothing short of a small standing army to make the aforementioned magic happen on a daily basis, and one would assume correctly. As it turns out, Walt Disney World is the largest single-site employer in the entire United States[4] and is easily the largest employer in Central Florida.[5]
This army also boasts one of the largest organized labor presences in Central Florida and this writer would argue that it is likely one of the largest organized work sites in Florida as a whole. The Service Trades Council Union alone (comprised of the likes of Teamsters, UFCW, IATSE, TCU and UNITE HERE) makes up for roughly 38,000 represented workers[6]. That's not even counting the thousands of Cast Members also represented by IUPAT, IBEW, LiUNA, etc. It isn't utopian by any means, but their union contracts ensure their rights are respected on the job, giving these employees a better deal than most working people in Florida can speak for.
However, much like Walt Disney World's abandoned and overgrown River Country Water Park[7], there is a dark stain on the otherwise idyllic fantasyland.
Enter: Sodexo.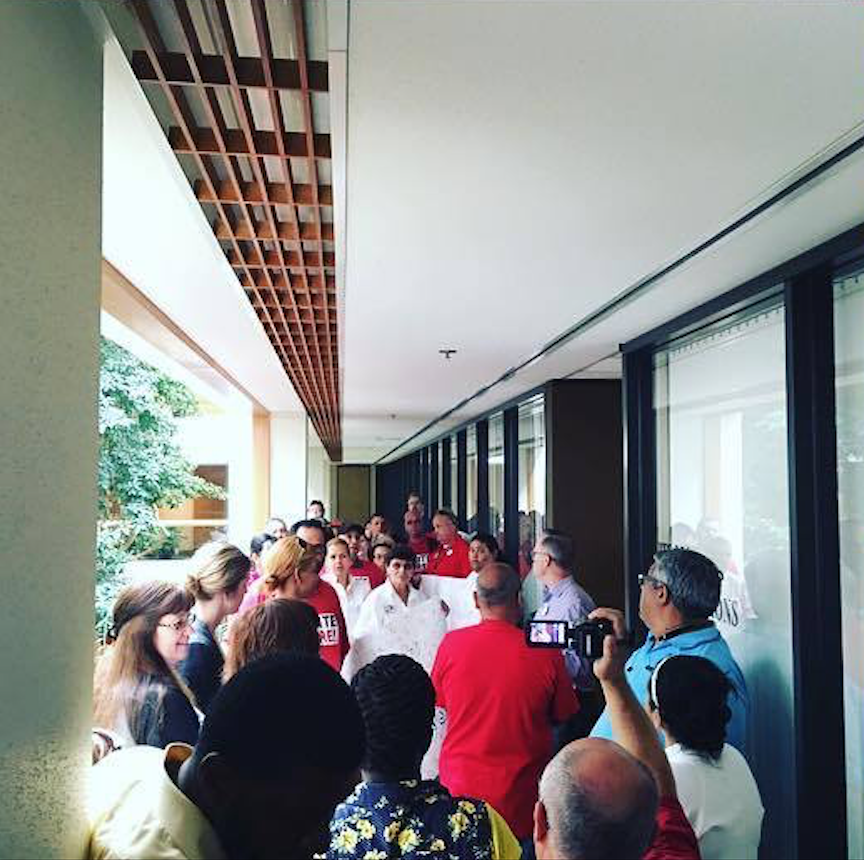 Have you ever stopped to notice that while as a guest at Disney World, you'll never see a park employee enjoying their lunch breaks next to you at one of the plethora of eateries scattered throughout the park? There is a reason for that.
Two years ago, Disney contracted Sodexo to staff their employee Dining Rooms which are interspersed between numerous locations throughout the park. I won't bore you with the technical legal jargon involved therein but suffice it to say that Disney brought in an outside company to work on its premises and Disney takes in a percentage of said company's profits.
Now, while Walt Disney World affords their employees the opportunity to join a union, the same cannot be said for the 350 people currently employed by Sodexo, and some of the stories coming out of the employee cafeterias are pretty harrowing if not downright heartbreaking and infuriating.
In speaking with Jeremy Yassen, Vice-President of Unite Here Local 362 which covers roughly 7,100 of Disney's Attractions, Custodial and Vacation Planning Cast Members, it becomes clear that there are some stark contrasts between the practices of Walt Disney World as an employer, whose Cast Members are largely safeguarded by the firewall of a union contract, and those who work in the cafeterias for Sodexo.
"There is no rhyme or reason to their hiring practices. Based on favoritism or whether you're friends with management, some new hires may be brought in at a starting hourly rate that is significantly higher than people that have been there for years and if you dare speak up to management, they'll relocate you to another area of the park, change your schedule without notice and in some cases cut your hours" said Yassen.
Stories abound with workers sleeping in their cars and living out of motels. In one case, a Sodexo worker was living out of their car and when they couldn't afford to keep up with their car payments, had the vehicle repossessed and was essentially working for the Most Magical Place on Earth while homeless.
People who fought for years to have certain days off are undermined by new hires who happen to be friends with management and immediately granted the same request. The punishment for complaining is to move them to another area of the park and cut their pay by a dollar an hour. A supervisor who once complained about discriminatory practices in the workplace had his schedule modified to give him five 3 hour shifts per week in retaliation.
I'm giving you the CliffNotes version here for the sake of self-preservation in keeping my editor from strangling me for turning in a dissertation of a blog post, but at some point it was decided that something needed to be done to give Sodexo workers the dignity they deserve, and a joint effort between UNITE HERE Local 362 and Local 737 was made to organize them in order to form a union.
It was a long, challenging bout of trudging through the proverbial mud to get there, but eventually Sodexo workers formed committees and 73% of the 350 workers signed union cards stating their desire and intention to join the union.
The war is won, right? Of course not. This is Florida we're talking about.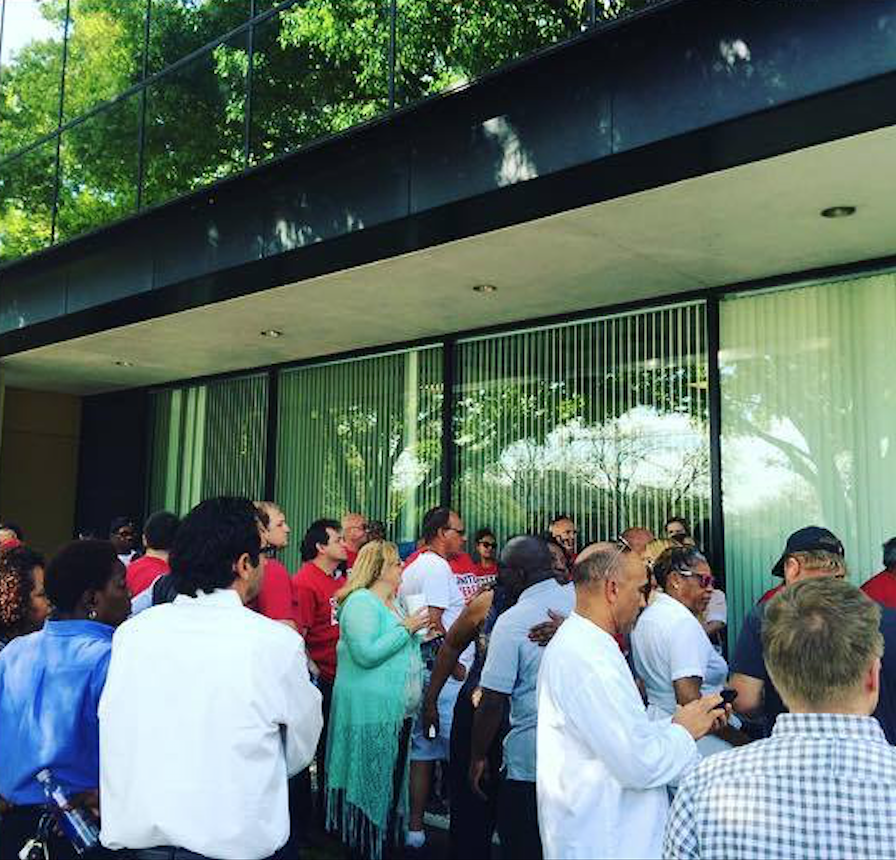 Keep in mind we live in a right-to-work, for less, state and no business is obligated under law to recognize the formation of an employee union comprised of a majority of their workers. If you've stuck with me this long, I'm guessing you know where this is going and what position Sodexo and Disney took in this scenario — despite the fact that, as mentioned before, Walt Disney World has arguably the largest organized labor presence in probably the entire Southeastern region of the U.S. and Sodexo proudly claims on their website that it "respects the right of [their] employees to unionize or not unionize, as they choose" and "will not discriminate or retaliate against any employee for supporting or opposing a union."[8]
I would like to add that corporate policy is not necessarily the policy of lower level management on the ground who want to keep current power structures in place to maintain control of the work place. One member of the union committee, Samuel, came out in support of the union publicly and subsequently went from being a sous chef at Magic Kingdom to washing dishes and bussing tables instead of preparing meals.
In such a supposedly union friendly environment, what forces are at work here?
From what I have gathered in speaking to workers and union leadership, there seems to be some passing the buck and "he said, she said" stuff going on.
Sodexo insiders say that they are waiting for the green light from Disney to recognize the union, contrary to their written statements about engaging in good faith bargaining, while Disney contends that they have no place in telling how another company conducts its business. A convenient response from the entertainment giant that Central Floridians can attest gets away with doing just about whatever it wants in the area.[9] According to several workers, Disney has been known to fire people working on their premises whether they are a Cast Member or not.
Frankly, I don't care who is responsible. If a childhood of watching Superman cartoons has taught me any lessons it's that when an unstoppable force meets an immovable object, they must surrender. Someone (Read: Disney and/or Sodexo) needs to budge.
In Florida, where working people are generally treated like second class citizens, that only happens through organized action. Large companies, especially behemoths like Disney, don't typically hand stuff out to people out of the goodness of their hearts, despite their squeaky clean family friendly image.
It was decided that the week of March 8th would be Sodexo Worker Appreciation Week. Disney Cast Members brought in a large banner that was signed by hundreds of workers, thanking Sodexo workers for the hard work they do in making sure that the people who run Disney's day-to-day operations are fed.
Of course, this wasn't the banner's sole purpose.
On March 23rd, about a hundred Disney and Sodexo workers marched on Disney's Labor Relations office and delivered the banner in person to the bosses and demanded that with 73% support for the union, it was time for Disney and Sodexo to give them the respect they deserve in recognizing their union (below). It was a classic display of strength in unity and numbers.
Exit: Mouse Mitts.
There is a reason why I'm prattling on and waxing poetically as if I fancy myself some kind of proper writer or something. I believe that in this culture of profit that surrounds Disney, and with the kind of political weight they can throw around locally, you can't build up this façade of being this wholesome entity whose business model revolves around the pure unadulterated joy of kids and adults/grown kids alike and not give respect and dignity to the people that make your profits a possibility day in and day out. Giving credit where credit is due, I will again bring up the fact that Disney is already a hotbed for organized labor but you can't get your one gold star and then stop there.
There is absolutely no earthly reason why the largest employer in Central Florida, one of the most profitable entities on the face of this planet, and a household name in supposed moral virtuousness should have workers living in cars or on the street. It's unconscionable and "We can't tell another company what to do" is not a valid excuse.
Buy the ticket, stand in line and take the ride.
As far as Sodexo is concerned, they blow their own horn of braggadocio claiming over 300 collective bargaining agreements in the U.S., but for some reason when it comes to the Food Service workers at Walt Disney World they are reluctant to live up to their own standards in the shadow of The Mouse.
For the readers boiling over in frustration, if you are anywhere in the Central Florida vicinity and want to lend your voice to support these food service workers, you can join them in turning up the heat on Disney and Sodexo. Join workers and other members of our community at an upcoming rally to demand that companies recognize these workers' right to form a union.
When: Thursday, April 14, 2016 @ 5:30 PM
Where: Crossroads (State Road 535 & Hotel Plaza Blvd.)
Together, our collective voices for worker justice will prove to be mightier than the mouse.
---
[1] http://www.uscitytraveler.com/10-most-popular-theme-parks-in-the-world/
[2] http://www.orlandosentinel.com/travel/attractions/the-daily-disney/os-disney-parks-worldwide-attendance-2015-story.html
[3] http://www.orlandosentinel.com/business/os-disney-earnings-report-20150505-story.html
[4] https://web.archive.org/web/20070927043040/http://profiles.hospitalityonline.com/206943/
[5] http://www.bizjournals.com/orlando/subscriber-only/2015/07/17/top-employers.html
[6] http://www.uniteherelocal362.org/wdw-ft/
[7] http://www.themeparktourist.com/features/20150323/30074/abandoned-rise-fall-and-decay-disney-s-river-country
[8] http://sodexousa.com/usen/Images/SDX-1706_FS-LaborUnion-PDF_Final337-681926.pdf
[9] http://www.politico.com/magazine/story/2015/06/what-works-orlando-disney-politics-119167