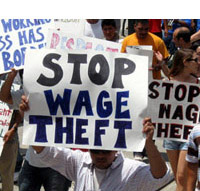 Wage theft is a major problem for Florida workers, with an estimated $60-90 million stolen from paychecks. Its a problem that disproportionately impacts lower wage workers in key sectors in Florida's economy – tourism, retail, and construction. But what is wage theft specifically? A recent report by the Research Institute on Social and Economic Policy at Florida International University explains:
Wage theft is defined as workers not receiving wages that they are legally owed. It occurs in different forms including unpaid overtime, not being paid at least the minimum wage, working during meal breaks, misclassification of employees as independent contractors, forcing employees to work off the clock, altering time cards or pay stubs, illegally deducting money from employees' pay checks, paying employees late, or simply not paying employees at all. Unfortunately, many employers know they can get away with wage theft and have little fear of sanction. Enforcement mechanisms are weak, due to lack of dedicated enforcement capacity at the state level, limited capacity of local branches of the Federal Department of Labor, and the gaps in U.S. labor laws that leave many employees unprotected.
Miami-Dade county recently passed a strong anti-wage theft ordinance and has already collected $400,000 in stolen wages. Now, extremists in the Florida Legislature are now trying to pre-empt Miami's ordinance before it spreads to other counties, making it illegal for local governments to pass wage ordinances. Instead, SB 862 and its counterpart HB 609 would only allow state government to take action against wage theft. We all know how that story would end.
Take action and sign the petition to backers of this pro-wage theft legislation today, urging them to withdraw their support.
(Visited 105 times, 1 visits today)
Your Thoughts?