By

– October 20, 2014

Powered by over 10,000 volunteers, United for Care has been connecting face-to-face with individuals all across our state. The success of our grassroots campaign can be seen in our internal polls, some of which he have been released to the press, that have consistently shown high levels of support for Amendment 2 since it was placed on the ballot. The enthusiasm of our supporters is also evidenced by our army of small donors who have given whatever they can afford to ensure that sick and suffering individuals have access to the treatment their doctors recommend.
Each day that we continue to connect with patients and voters all across our state, we find that Floridians overwhelmingly agree that passing Amendment 2 is simply the right thing to do. As a campaign, we're clearly winning the ground game and our media campaign via radio, web and television is intensifying as we approach Election Day.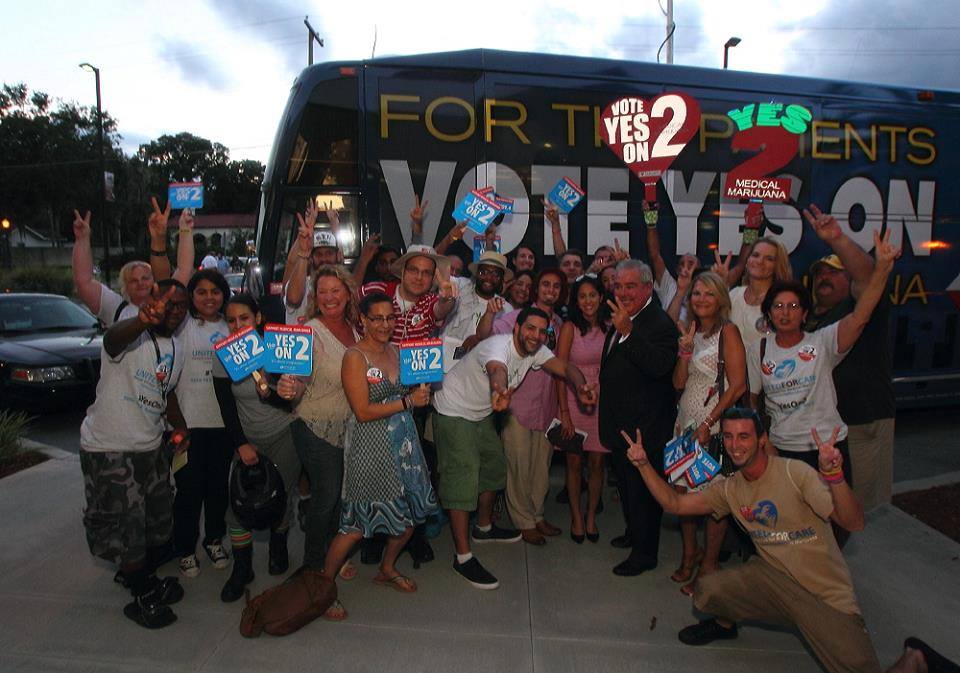 Yet amid all of the untruthful attacks on Florida's medical marijuana, it's important to remember the facts. As the Florida Supreme Court ruled, under Amendment 2, only patients with debilitating diseases can receive a recommendation from their doctors.  This could only be done after subjecting the patient to a full physical examination and reviewing his or her full medical history. As the non-partisan fact-checker PolitiFact has reaffirmed, minors won't have access to medical marijuana without a parent or guardian.
It is reasonable to assume that the Florida Department of Health, which is required to write regulations to ensure the safety and security of Florida's medical marijuana program upon passage of Amendment 2 (including a limit on how much medical marijuana a patient or caregiver can possess), will also develop extensive and strict requirements to prevent drug dealers from becoming medical marijuana caregivers. Department of Health regulations along with the multi-step process required in obtaining medical marijuana led to the Florida Office of Economic and Demographic Research to conclude that a "pill mill" scenario would be highly unlikely under Amendment 2.

As we get closer to November 4th we firmly believe Amendment 2 is on the path to victory on Election Day. Even though they have outspent our campaign ten to one over the last few weeks, the opponents of medical marijuana have had little success in getting voters to listen to their misleading messages. Amendment 2 is going to become law in Florida not only because Floridians are compassionate and well informed, but also because United for Care's campaign is working.
Amendment 2 is all about compassion. People who are sick and suffering should not have to fear criminal punishment for seeking the treatment their doctors recommend. The truth is on our side and so are the voters, so make sure to cast your "YES" vote for Amendment 2, and tell all of your friends, co-workers and family members to do the same.  Compassion is coming!
By: Maurizio Passariello, Communications Director, United for Care
By

– October 17, 2014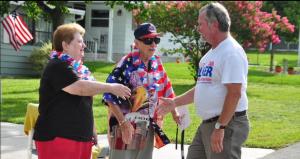 I have a strong desire to serve and make the right changes for my community but campaigning for political office is new to me. For the past 28 years I watched Hernando County officials make decisions that were often times really bad decisions. Because of this, I felt compelled to run for office. I want the opportunity to make the right decisions, for the right reasons, that will benefit families, businesses and individuals.
I knew why I was running for office but how to effectively campaign was another matter.  Being a part of the Farm Team was nothing short of incredible. The knowledge gained entirely transformed my campaign from mediocre to highly professional. It gave me the confidence to speak in front of groups as well as the media. I learned the necessary inner workings of a campaign from accounting procedures to legal disclaimers. To this day we continue to receive support and guidance toward our campaigning efforts.
The Farm Team training gave my campaign manager and I "our first and most successful opportunity to really work together as a team to make some major headway toward our plans. The confidence we walked away with after that weekend of training made all the difference in our ability to effectively campaign."
For More information on Dan's campaign visit: http://www.danoliver4office.com/ or on Facebook at www.facebook.com/DanOliver4Office
*Anyone who is interested in supporting these Farm Team candidate(s) in any way please contact your Central Labor Council. You can contact West Central CLC at 813-368-7124 or cschroeder@wcffl.org. If you wish to contact Volusia Flagler CLC call 386-235-5751 or stacy@vfaflcio.orgor. For more information about how you can help or about the Farm Team program contact Phyllis Garrett at pgarrett@flaflcio.org or 850-224-6926.*
By

– October 15, 2014

"When I hear a politician say that we have to raise the minimum wage so working families can make ends meet, I cringe…" – Governor Rick Scott

Scott Maxwell, of the Orlando Sentinel, put it quite plainly when he wrote, "If you're still arguing that lowering corporate-tax rates and increasing corporate handouts is a formula for success, you're delusional….Incentives are also, of course, inherently unfair. Politicians award perks to some companies and not others. They breed favoritism and cronyism. And they fly in the face of free-market capitalism — which is why many principled conservatives dislike them."[i] He based this on the fact that Florida's economy in terms of wages, growth and standard of living lags the nation.

Consider some facts

In Florida, 1,732,000 workers and their families would be positively affected by raising the minimum wage to $10.10 per hour.[ii] The average wage in Florida continues to trail the national rate, and declined further in 2013, to 87.6 percent of the U.S. average wage.[iii] The median household income in Florida was $46,071 in 2012, 39th in the nation and well below the $51,017 median for the entire U.S.[iv][v]

It should not be surprising that trends in hourly wage growth have profound consequences for American living standards. After all, the vast majority of Americans rely on their paychecks to make ends meet.[vi]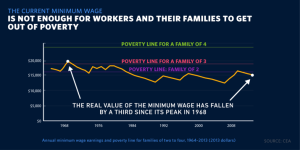 Raising Wages Stimulates Economy
According to a report by the Economic Policy Institute, "Raising the minimum wage would help reverse the ongoing erosion of wages that has contributed significantly to growing income inequality. At the same time, it would provide a modest stimulus to the entire economy, as increased wages would lead to increased consumer spending, which would contribute to GDP growth and modest employment gains."[vii]
If raising the minimum wage lifts families out of poverty and off public assistance while at the same time providing economic stimulus, it is hard to understand why politicians who claim to be focused on the economy have not embraced the policy. In an email, Governor Scott, the "jobs" governor said, "When I hear a politician say that we have to raise the minimum wage so working families can make ends meet, I cringe, because I know that statement is a lie. Even if we did raise the minimum wage, working families will still not be able to make ends meet on those jobs. We need good jobs that lead to good careers for our families and that's what I am focused on.[viii]" So where are the good jobs? Who is lying now?
No Good Jobs
During his tenure, Scott has done an excellent job of increasing the number of minimum and low wage jobs and a good job of giving incentives and tax breaks to corporations but he has yet to deliver on his "good jobs" promise. According to the study by Florida International University's Research Institute on Social and Economic Policy, the three industries that account for 63 percent of all minimum-wage jobs in Florida — hospitality, retail and healthcare — have also been leading the recovery. Meanwhile, two sources of better-paying jobs — construction and government — have been in retreat during the recovery.[ix]
Additionally, according to a Florida Center for Investigative Reporting study, from July 2010 to July 2011, the largest number of new jobs created in the state came in the leisure and hospitality industry, which pays average annual wages of $21,448.[x] That compares to $41,750 for all Florida industries, according to statistics from the state's Agency for Workforce Innovation. Along with hotel workers, Florida's job-creation machine is also making administration and waste management services — with jobs such as secretaries, office administrators, janitors and office cleaners — one of the three fastest-growing industries. Between January and July 2011, the state added about 14,000 of these jobs. Meanwhile, jobs with benefits in higher-paying industries such as information, finance and insurance, wholesale trade, along with federal, state and local government, all saw negative growth.[xi]
The surge in tourism and cleaning jobs doesn't mean those workers are getting paid any better. The bottom 20 percent of earners in Florida have seen their wages actually drop, according to the FIU study, while they went up modestly for the state's top 20 percent of earners.[xii]
This trend hasn't gone unnoticed by the public either who have time and again voiced their support for increasing the minimum wage. According to Denise Diaz the Director of Central Florida Jobs With Justice, the "groundswell of public support for a higher minimum wage is real and lobbyists for the fast food industry and retail corporations are at the forefront of attempts to stop it. As some states and local governments take initiative to raise wages, we are seeing a national conversation regarding the growing industry of low-wage service work and Florida cannot be left behind. Now more than ever, workers are not living paycheck to paycheck but instead living hour to hour with unstable schedules and poverty wages."
The Corporate Trickle-Down
Pay, for the vast majority of Floridians, has stayed flat or declined, even though productivity and earnings at the top are escalating. Floridians are working harder, more productively, and with more education than ever, but are treading water, as an enormous and ever-increasing share of income growth goes to corporate profits and executive pay.
As wages decline so does purchasing power which leads to a decrease in living standards. Because there is a clear connection between wages and living standards any efforts to alleviate poverty and get families back on their feet and off public assistance will be extraordinarily difficult without addressing wage growth.
This problem has its roots in policies that increasingly favor employers at the expense of workers. According to economists, (see Mishel et al. 2012 and Bivens 2011) a number of influences can help explain why the wages of the vast majority have grown more slowly than economy-wide productivity. The major influences include:
Integration of the U.S. and the much-poorer global economy on terms deeply damaging to the vast majority of American workers
The failure of elected officials to aggressively pursue genuinely full employment
Steep cuts to top marginal tax rates that have greatly increased the motive for the wealthy to fully wield their economic power to tilt the distribution of rewards their way
Deregulation of the financial sector that has led to greater risk and reward for financial managers without leading to better economic outcomes
The continuing failure of corporate governance to rein in executive compensation [xiii]
By themselves, none of these policies has the power to move the needle on overall wage trends. However, as a group, they have measurable effects. Corporate bankrolled organizations like Americans for Prosperity spend much effort and money at the federal and state levels to pursue these policies (Lafer 2013).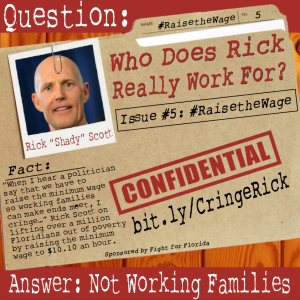 Who Does Rick Really Work For?
At this point in the series, it probably doesn't come as a surprise that those same organizations fighting against this fundamental issue, that would dramatically improve the lives of Florida's working people, have contributed to Rick Scott's campaign for governor. Millions of dollars have been spent by the Koch brothers, their corporations, their kin and their lap dog, American's for Prosperity. Making us all cringe a little more.
Answer: Not Florida's Working Families
For more information on Central Florida Jobs With Justice visit: www.cfjwj.org
Like them on Facebook. Follow them on Twitter and Instagram
[i] http://articles.orlandosentinel.com/2012-11-24/business/os-scott-maxwell-rick-scott-florida-economy-112512-20121124_1_corporate-taxes-incentives-taxpayer-money
[ii] http://www.whitehouse.gov/raise-the-wage
[iii] http://www.fcfep.org/attachments/20140811–Condition%20of%20Florida%20by%20the%20Numbers
[iv] http://www.fcfep.org/attachments/20140811–Condition%20of%20Florida%20by%20the%20Numbers
[v] http://www.whitehouse.gov/raise-the-wage
[vi] Raising America's Pay: Why It's Our Central Economic Policy Challenge, By Josh Bivens, Elise Gould, Lawrence Mishel, and Heidi Shierholz, June 4, 2014, http://www.epi.org/publication/raising-americas-pay/
[vii] Raising the federal minimum wage to $10.10 would give working families, and the overall economy, a much-needed boost. David Cooper and Doug Hall, March 13, 2013, http://www.epi.org/publication/bp357-federal-minimum-wage-increase/
[viii] http://www.tampabay.com/blogs/the-buzz-florida-politics/democrats-push-for-increase-of-floridas-minimum-wage/2160194
[ix] http://www.miamiherald.com/incoming/article1942416.html#storylink=cpy
[x] Florida Center for Investigative Reporting, http://fcir.org/2012/01/08/rick-scott-takes-credit-for-jobs-economic-growth-but-data-shows-wages-fell-for-working-poor-poverty-still-widespread/
[xi] https://www.documentcloud.org/documents/282083-the-state-of-working-florida-2011.html
[xii] https://www.documentcloud.org/documents/282083-the-state-of-working-florida-2011.html
[xiii] Raising the federal minimum wage to $10.10 would give working families, and the overall economy, a much-needed boost. David Cooper and Doug Hall, March 13, 2013, http://www.epi.org/publication/bp357-federal-minimum-wage-increase/