By

– October 24, 2014

My name is Don Sarro and I am a member of AFT Local 1605.  My campaign for Volusia County School Board began in earnest after learning the basics of running a campaign at the Farm Team training.  I faced a tough primary challenge from four other candidates, but with the help of the Florida AFL-CIO, my Central Labor Council and my local union, I have been able to move to the general election run-off.  The help was more than just the much needed financial contributions from other unions across the state; it was also in the form of knowledge shared and volunteer time spent talking about my campaign with voters.

Our leadership in Tallahassee, along with my local CLC and union, helped me develop a campaign strategy and offered much needed advice. Being a Farm Team member is like having an extended family; band of brothers and sisters who share a unique bond; supporting your efforts along every step of the campaign trail.

The commitment from local union members who contribute both dues and political contributions made my Farm Team experience possible.  I endeavor to honor your commitment by fighting for working families each day.

For more information on Don Sarro's campaign visit: http://www.donsarroforschoolboard.com/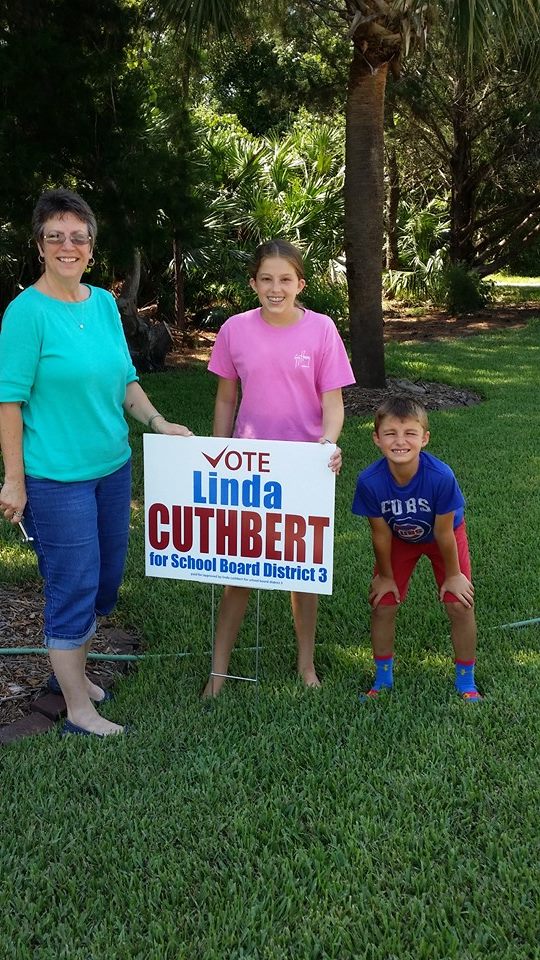 Linda Cuthbert
I am Linda Cuthbert, a candidate for Volusia County School Board District 3. As a veteran educator with nearly 30 years teaching experience, I thought it was time to step forward and place an educator's view on the board where there was none.
As a 2014 Farm Team member, I had a head start on campaigning. Our two day intensive training opened my eyes WIDE to not only the excitement of the next six months, but also to the possible pitfalls. Well organized, thoughtful, tough sessions including video auditions, guest speakers, speech planning, legal explanations, and media explorations snapped me into focus – making me realize what a truly grueling task lay before me. The Farm Team staff did not just send us on our way afterwards either, but has supported each Farm Team candidate throughout our campaign journey.
Deciding to attend the Farm Team training was the best thing I've done to advance the success of my campaign. I strongly recommend the Farm Team candidate training to any union member who wishes to become an elected official in order to create just and knowledgeable changes for the betterment of working families.
For more information on Linda Cuthbert's campaign visit here facebook page here: FACEBOOK
By

– October 22, 2014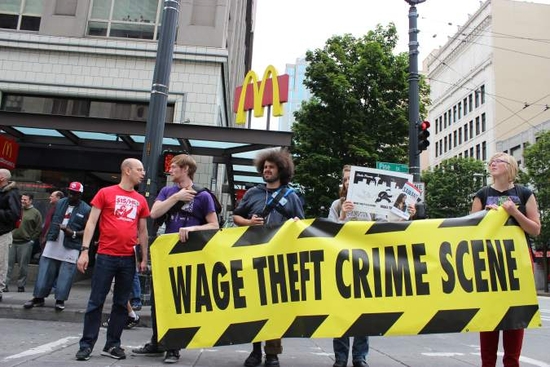 Governor Scott has made Florida a haven for unscrupulous companies all in the guise of making Florida "business friendly". It's probably no surprise that the industries that have provided the bulk of Scott's job recovery numbers (restaurant and lodging, retail and tourism) also pay the lowest wages, have the fewest benefits and are filled with employers who steal from their employees.
Taking Your Money: Wage theft, defined as underpayment or non-payment of wages earned, is a growing epidemic in Florida and around the country. For example, if an employer notices that a cash register is short and takes the money out of their employees' wages, that's wage theft. Other examples range from paying less than minimum wage, not paying workers overtime, not allowing workers to take meal and rest breaks, or taking workers' tips.
Rick Scott's Florida: The US Department of Labor has identified Florida as one of the worst states when it comes to wage theft, recording over 9,000 cases totaling over $28 million in lost wages in a period between 2008 and 2011. Further, a comprehensive study by the Research Institute on Social and Economic Policy at Florida International University indicates that this is the tip of the iceberg and that actual cases could be as high as 300 percent more.[1] These lost wages mean less money in local economies and more families on taxpayer assistance.[2]
Since the Jeb Bush administration and the Florida Legislature dissolved the State Department of Labor[3] without providing any statewide solution, local governments have begun exploring local solutions through city or county ordinances. Miami-Dade County led the way in implementing a local ordinance to help the victims of wage theft. Since its enactment, almost $600,000 in wages has been recovered for 471 workers through the mediation process and 411 administrative hearings have yielded almost $1 million in lost wages for aggrieved workers.[4] Similarly, Alachua[5], Broward[6] and Palm Beach[7] Counties also instituted its own policies while other counties are looking into it. Over 31% of Florida's workers now live in counties that have established local Wage Recovery programs.
Apparently paying your employees the wages they have earned amounts to being "unfriendly" to businesses that don't want to pay employees. Keeping employees' wages also puts these businesses at a competitive advantage compared to business that do not.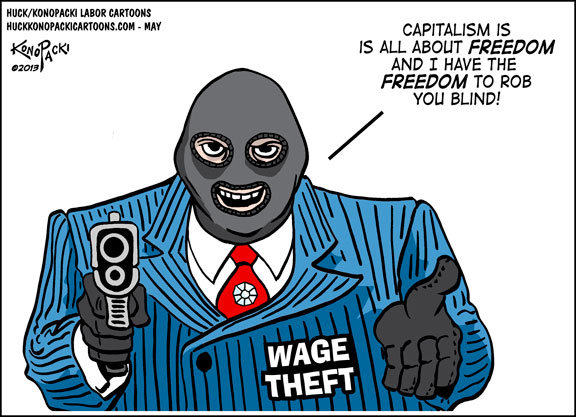 Meet The Wage Thieves: Major corporations like McDonalds[8] and Subway[9] have been charged with stealing hundreds of thousands of dollars from their workers in the 2014. In our state, championing this issue year after year is the Florida Retail Federation[10] who represents some of the worst offenders – Walmart, Macy's, Publix and Office Depot. Each year, the Florida Retail Federation urges the Legislature to consider wage theft pre-emption ordinances, putting a roadblock for victims of wage theft to recover their stolen wages.[11] The FRF has made upwards of $2 BILLION dollars in campaign contributions from 2004-2012. 77 percent of which went to Republicans, including Scott. [12]
Who Does Rick Really Work For? When the FRF endorsed Scott for reelection they praised him by saying that he had helped retailers create jobs.[13]
Instead of protecting workers from wage theft, the FRF and Rick Scott want to preempt local control and prevent workers from receiving wages owed to them.[14] And they have spent hundreds of thousands of dollars to do so.
| | |
| --- | --- |
| Total Local Wage Theft Ordinance Preemption | $1,084,402.73 |
|          Florida Retail Federation | $613,402.73 |
|          Publix | $325,000.00 |
|          Office Depot | $145,000.00 |
Keep in mind, the Florida Retail Federation's money comes from its members like Macy's, Play it Again Sports and the others we've mentioned. So the $600,000+ courtesy of FRF is actually coming from all their major corporate sponsors who use organizations, like FRF, to shield their shady business tactics from the public.[15] Rick Scott's friends are not the friends of working families. So, while he has made Florida very friendly for them, he has done so at the expense of Floridians.
[1] http://www.risep-fiu.org/2012/01/wage-theft-how-millions-of-dollars-are-stolen-from-floridas-workforce/
[2] http://www.risep-fiu.org/2012/09/florida-worse-off-than-other-states-in-the-recovery/
[3] http://www.flsenate.gov/UserContent/Session/2011/Publications/InterimReports/pdf/2011-107cm.pdf
[4] http://www.risep-fiu.org/2012/09/the-current-state-of-wage-theft-in-miami-dade-county/
[5] http://www.risep-fiu.org/2013/04/wage-theft-in-alachua-county/
[6] http://www.risep-fiu.org/2012/10/wage-theft-in-broward-county/
[7] http://articles.sun-sentinel.com/2014-01-15/news/sfl-palm-beach-county-renews-compromise-wage-theft-effort-20140115_1_wage-county-commission-low-income-workers
[8]http://www.salon.com/2014/04/06/how_mcdonalds_gets_away_with_rampant_wage_theft_partner/
[9] http://thinkprogress.org/economy/2014/05/02/3433758/wage-theft-subway/
[10] http://www.huffingtonpost.com/2012/03/06/florida-wage-theft-law_n_1324544.html
[11] http://miamiherald.typepad.com/nakedpolitics/2012/03/judge-dismisses-florida-retail-federation-lawsuit-against-miami-dade-over-wage-theft-program.html
[12] http://contextflorida.com/daniel-tilson-florida-house-wage-theft-bill-adds-insult-to-injury/
[13] http://www.frf.org/index.php/about/media/news-releases/975-frf-endorses-scott
[14] http://peoplesworld.org/office-depot-macy-s-publix-slammed-on-wage-theft-stance/
[15] http://www.frf.org/index.php/about/board-of-directors
By

– October 20, 2014

Powered by over 10,000 volunteers, United for Care has been connecting face-to-face with individuals all across our state. The success of our grassroots campaign can be seen in our internal polls, some of which he have been released to the press, that have consistently shown high levels of support for Amendment 2 since it was placed on the ballot. The enthusiasm of our supporters is also evidenced by our army of small donors who have given whatever they can afford to ensure that sick and suffering individuals have access to the treatment their doctors recommend.
Each day that we continue to connect with patients and voters all across our state, we find that Floridians overwhelmingly agree that passing Amendment 2 is simply the right thing to do. As a campaign, we're clearly winning the ground game and our media campaign via radio, web and television is intensifying as we approach Election Day.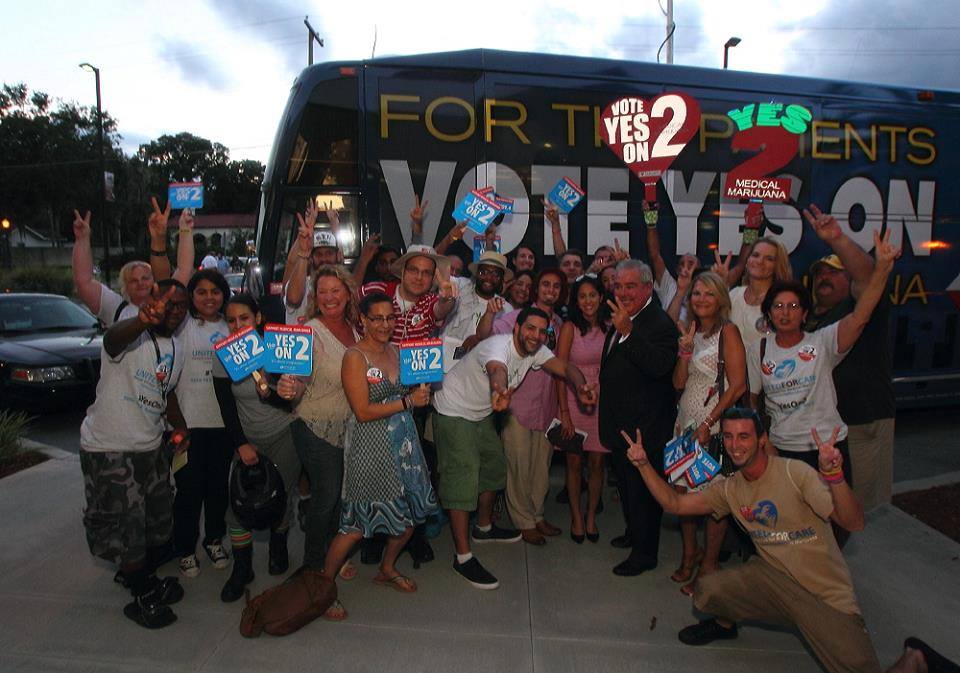 Yet amid all of the untruthful attacks on Florida's medical marijuana, it's important to remember the facts. As the Florida Supreme Court ruled, under Amendment 2, only patients with debilitating diseases can receive a recommendation from their doctors.  This could only be done after subjecting the patient to a full physical examination and reviewing his or her full medical history. As the non-partisan fact-checker PolitiFact has reaffirmed, minors won't have access to medical marijuana without a parent or guardian.
It is reasonable to assume that the Florida Department of Health, which is required to write regulations to ensure the safety and security of Florida's medical marijuana program upon passage of Amendment 2 (including a limit on how much medical marijuana a patient or caregiver can possess), will also develop extensive and strict requirements to prevent drug dealers from becoming medical marijuana caregivers. Department of Health regulations along with the multi-step process required in obtaining medical marijuana led to the Florida Office of Economic and Demographic Research to conclude that a "pill mill" scenario would be highly unlikely under Amendment 2.

As we get closer to November 4th we firmly believe Amendment 2 is on the path to victory on Election Day. Even though they have outspent our campaign ten to one over the last few weeks, the opponents of medical marijuana have had little success in getting voters to listen to their misleading messages. Amendment 2 is going to become law in Florida not only because Floridians are compassionate and well informed, but also because United for Care's campaign is working.
Amendment 2 is all about compassion. People who are sick and suffering should not have to fear criminal punishment for seeking the treatment their doctors recommend. The truth is on our side and so are the voters, so make sure to cast your "YES" vote for Amendment 2, and tell all of your friends, co-workers and family members to do the same.  Compassion is coming!
By: Maurizio Passariello, Communications Director, United for Care