By

– October 1, 2014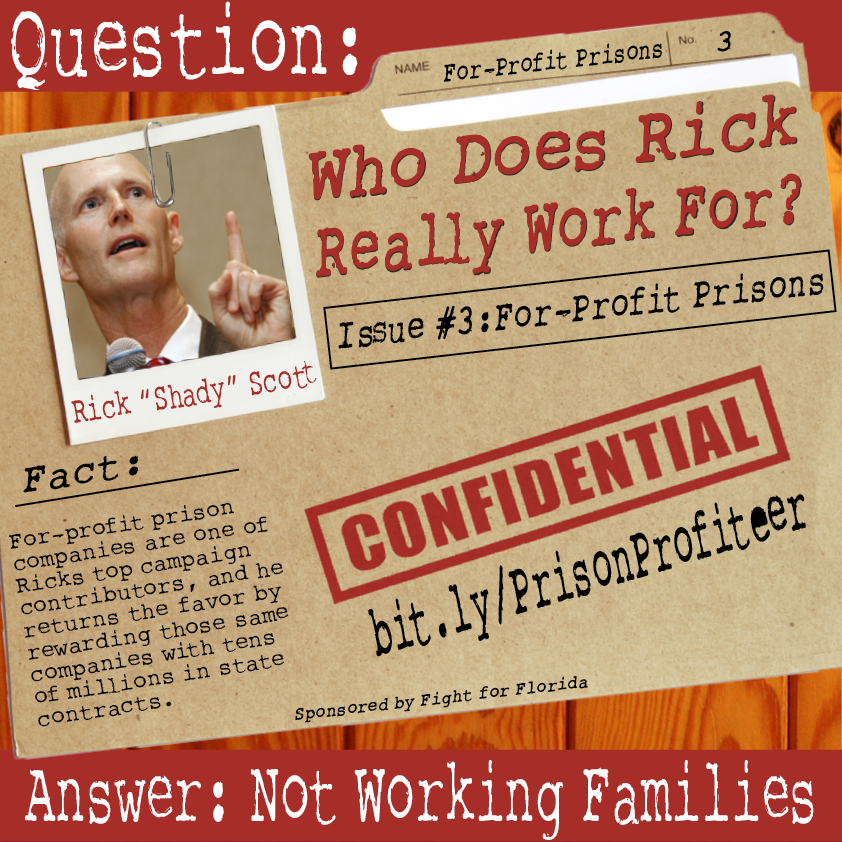 Who does rick really work for? For-Profit Prisons.
Rick $cott: Pri$on Profiteer: In Florida, for-profit prison interests have spent close to $1.5 million towards buying Rick Scott's support in the 2014 elections. Earlier this year, Scott attended a fundraiser at the home of the CEO of the GEO Group, the second-largest private prison company in the world. Rick Scott's "Let's Get to Work Committee" has received at least $365,000 from GEO and related companies alone.
The GEO Group gave Rick Scott's Let's Get to Work PAC $315,000 dollars in the 2014 election cycle.
The GEO Group gave the Republican Party of Florida $1,016,000 dollars from 2009-2014.
Governor Rick Scott has done his part by supporting legislation that would have privatized nearly a third of Florida's prisons, pushed (unsuccessfully) by The GEO Group and other for-profit correctional facility companies. From 2010-2012 when this legislation was introduced, the for-profit lobby unleashed over a hundred lobbyists to push the measure, spending nearly $200,000 a quarter.[1] Despite Scott's strong support for prison privatization, and thanks in large part to the efforts of civil liberties and labor organizations fighting the measure across the state, the legislation did not pass.[2] Although this legislation failed, that hasn't stopped Rick from handing out contracts to one of his largest campaign contributors. Under Scott in 2013, The GEO Group was awarded contracts to manage 76 percent of Florida's private prisons worth $57 million annually.[3]
What's the problem? If the sheer immorality of having a private industry make billions off of keeping people in prison[4] isn't bad enough, for-profit kingpins have gone to record lows to keep costs down and profits up. Across the country and in Florida, for-profit prisons have a track record for mistreating their prisoners, including improper food and medical care and putting inmates in what an ACLU lawsuit calls "barbaric" conditions.[5] It is not only the prisoners that suffer under for-profit prisons. Corrections employees who work for these companies work for substandard wages, under inadequate security practices and with little training on how to effectively manage inmate populations.
Land of the Free? Here are some shocking facts about our U.S. prison population:
With only 5% of the world's population, the U.S. has 25% of the world's prison population –that makes us the world's largest jailer. (Over 2 million people incarcerated.)
Since 1970, our prison population has risen 700%.
One in 99 adults are living behind bars in the U.S. This marks the highest rate of imprisonment in American history.
One in 31 adults are under some form of correctional control, counting prison, jail, parole and probation populations. [6]
Our incarcerated population has exploded for many different reasons, but in large part it is due to the failed "war on drugs." To put a number to that claim, 50% of the federal prison population is behind bars due to drug charges.[7] These shocking statistics have led to a strong effort by civil liberties organizations to push for federal legislation in an effort to scale down America's addiction to incarceration for minor offenses.[8] So what's the hold up?
More Prisoners, More $$$: With the claimed incentive of saving tax dollars and alleviating overcrowding, many states have turned to the multi-billion dollar for-profit prison industry as a solution to the growing epidemic.
Some stats:
From 1999-2010, the number of individuals held in private prisons grew by 80 percent, compared to 18 percent in not for-profit federal institutions.
The number of federal prisoners held in for-profit private prisons over this time period increased 784 percent, while the number of state prisoners incarcerated grew by 40 percent. [9]
For-Profit Lobby. Across the country private prisons have spent tens of millions of dollars in lobbying efforts to support legislation that keeps their cells full, including mandatory minimum sentencing and zero tolerance policies. A special low comes with their efforts in fighting against immigration reform and for the draconian immigration legislation Arizona passed in 2010 and the similar Florida bill that failed 2011.[10] Why? Maybe it's due to the fact that half of all immigrants detained by ICE and federal officials are held in facilities run by for-profit prisons, reaping them profits of up to $5.1 billion.[11]
It's all about the $$$: In the pockets of Rick's big business buddies that is. The fact remains that putting profits over working people is not good public policy, but when prison profiteer Rick is given that choice, he'll always take the $$$ and run.
[1] http://thinkprogress.org/justice/2011/06/23/251363/cca-geogroup-prison-industry/
[2] http://articles.orlandosentinel.com/2013-09-24/news/os-prison-privatization-failure-20130923_1_prison-population-prison-privatization-prison-system
[3] http://members.jacksonville.com/news/2013-12-16/story/new-contracts-give-private-prison-giant-nearly-80-percent-floridas-private
[4]http://www.salon.com/2013/09/23/6_shocking_revelations_about_how_private_prisons_make_money_partner/
[5] http://www.huffingtonpost.com/2013/05/31/private-prison-mississippi-barbaric-conditions-_n_3362596.html
[6] https://www.aclu.org/safe-communities-fair-sentences/prison-crisis
[7] http://www.pbs.org/wgbh/pages/frontline/criminal-justice/locked-up-in-america/feds-to-reconsider-harsh-prison-terms-for-drug-offenders/
[8] http://www.pbs.org/wgbh/pages/frontline/criminal-justice/locked-up-in-america/feds-to-reconsider-harsh-prison-terms-for-drug-offenders/
[9] https://www.aclu.org/prisoners-rights/banking-bondage-private-prisons-and-mass-incarceration
[10] http://www.thenation.com/article/173120/how-private-prisons-game-immigration-system#
[11] http://thinkprogress.org/justice/2012/08/03/627471/private-prisons-spend-45-million-on-lobbying-rake-in-51-billion-for-immigrant-detention-alone/
By

– September 24, 2014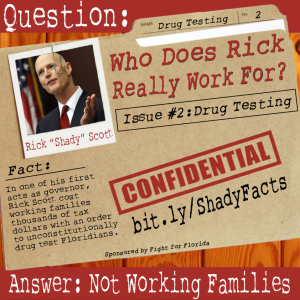 It will probably come as no surprise that Governor Rick Scott says one thing but means another. After all, he's a Tallahassee politician. But his support of drug testing recipients of taxpayer assistance rises above his ordinary hypocrisy. He, his political cronies and some big businesses have all received taxpayer funds, all without a single drug test. One might be tempted to accuse the Governor of trying to avoid detection by casting the public's eyes in another direction.
Rick did what now? It all started back in July 2011 when the state of Florida enacted a law requiring adults applying for welfare assistance to undergo drug screening: Saying it was "unfair for Florida taxpayers to subsidize drug addiction," Gov. Rick Scott signed the legislation.
"It's the right thing for taxpayers,"[1] Scott said after signing the measure. "It's the right thing for citizens of this state that need public assistance. We don't want to waste tax dollars. And also, we want to give people an incentive to not use drugs."
Under the law, the Florida Department of Children and Family Services required drug tests on adults applying to the federal Temporary Assistance for Needy Families (TANF) program. The recipients would be responsible for the cost of the screening (about $30 dollars), which they would recoup in their assistance if they passed. Applicants who tested positive were barred from receiving benefits for a year although another person could apply for benefits on behalf of any children.
Well that sounds illegal…and it was. Enforcement of the Florida law was temporarily halted by a federal judge after the American Civil Liberties Union filed suit[2] on behalf of a Florida resident that was denied benefits when he refused to take a drug test. Judge Mary Scriven issued the temporary injunction against the state[3], writing in a 37-page [4]order that the law could violate the Constitution's Fourth Amendment ban on illegal search and seizure. A U.S. District Judge upheld that ruling and struck down the Florida drug testing law for welfare recipients, saying that it violated the constitutional protection against unreasonable searches.
During the time the law was in effect, about 2.6 percent[5] of recipients tested positive for illegal drugs, mostly for marijuana, according to the court documents. The failure rate was well below that of the general population. The U.S. Department of Health and Human Services found in a 2009 survey that about 8.7 percent of the population aged 12 or older had used illicit drugs in the previous month.
Undaunted… He followed up that bill with an executive order[6] requiring drug testing of all 85,000 state employees as well as a pre-testing of prospective job applicants in agencies under his control. The U.S. Circuit Court of Appeals[7] was equally undaunted when they ruled that Scott's executive order making consent to suspicionless drug testing a condition of employment was unconstitutional as well as testing of state employees without a threat to public safety or suspicion of drug use.
Gov. Rick Scott and his drug testing policies became the unwitting target of Jon Stewart's "Daily Show" when a reporter for the show broke into budget news conference and asked the governor to "pee into this cup." http://youtu.be/SLIV7ucAhaw The entire episode can be viewed here: http://thedailyshow.cc.com/videos/vra301/poor-pee-ple
Once again, Florida is the butt of the national jokes.
Who does Rick really work for? When looking to who benefited from this law, one has only to look to Gov. Scott. With ties to the drug testing company, Solantic,[8] the state was effectively being forced to pay for 11.5 gallons of drug-free urine every month, to the tune of around $34,000.[9] The testing plan, which was expected to cost $187 million by some analysts' estimates, could have cost taxpayers even more in the long run had they been able to test state employees for no reason. Add to that, those who received taxpayer funds but who did not have to take drug tests and the picture gets even clearer – big corporations, professional politicians and the Governor himself all benefited from the unequal treatment of the law.
[1] http://www.cnn.com/2011/POLITICS/06/01/florida.welfare.drug.testing/
[2] https://www.aclu.org/criminal-law-reform/us-appeals-court-upholds-injunction-halting-floridas-drug-testing-welfare
[3] http://www.cnn.com/2011/10/25/us/florida-welfare-drug-tests/
[4] http://media.ca11.uscourts.gov/opinions/pub/files/201115258.pdf
[5] http://www.nytimes.com/2012/04/18/us/no-savings-found-in-florida-welfare-drug-tests.html?_r=0
[6] http://articles.orlandosentinel.com/2011-03-22/news/os-rick-scott-drug-testing-state-work20110322_1_random-drug-testing-testing-of-state-employees-drug-screening
[7] http://www.huffingtonpost.com/2014/04/21/supreme-court-florida-drug-testing_n_5185951.html
[8] http://www.tampabay.com/news/business/gov-rick-scott-solantic-and-conflict-of-interest-whats-the-deal/1161158
[9] http://www.motherjones.com/mojo/2011/08/florida-welfare-drug-test-costs
By

– September 19, 2014

With less than 50 DAYS until the election, our 2014 Farm Team candidates are hitting the pavement and taking to the phone lines to gather support for victory this November 4th. Building on our wins in 2012, our union sisters and brothers have continued to show the leadership and dedication it takes to be working family civil servants in their communities, but the fight is not over and they need your support!
Five of our Farm Team Candidates face opponents in the General Election.

Each Farm Team member will face fresh challenges going into the General Election. In Volusia, Linda, Don and Scott will each be facing an opponent for the victory, and it will be a gloves-off fight to the finish. Dan and Paul, who have been steadily working on their General Election campaigns, will be facing the same battles. With weeks to go before November 4th each of our candidates is pulling out all the stops in their campaigns while their CLCs works diligently on their behalf to communicate to the union members in their districts. The fight will only get harder as we near Election Day.
Anyone who is interested in supporting these Farm Team candidate(s) in any way please contact your Central Labor Council. You can contact West Central CLC at 813-368-7124 or cschroeder@wcffl.org. If you wish to contact Volusia Flagler CLC call 386-235-5751 or stacy@vfaflcio.orgor. For more information about how you can help or about the Farm Team program contact Phyllis Garrett at pgarrett@flaflcio.org or 850-224-6926.