By

– May 14, 2015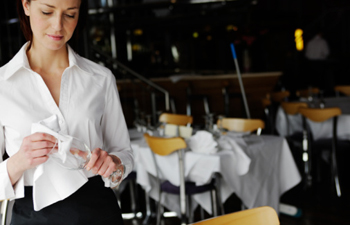 Jennifer didn't start off working for free but that's how it ended up. She worked as a server for an unscrupulous restaurant owner who said he would pay her one thing and ended up paying her almost nothing. As a single mother, she was dependent on what little he did pay her (he even stole her tips) and by the time she found new employment, was forced to sell her laptop, TV and even her son's gaming system to pay the rent.
Most victims think it will never happen to them, until it does. When it does happen, they find that there is little recourse other than taking the employer to court or starting a lengthy Federal investigation through the Department of Labor.
Wage theft occurs when employees do not receive the wages to which they are legally entitled. There are many ways that wage theft occurs but a few of the most common are: paying less than minimum wage; being required to work through breaks; and failing to pay overtime or requiring employees to work "off the clock."
On May 20th, Hillsborough County Commission will consider a draft Wage Recovery Ordinance modeled on the extremely successful Miami-Dade ordinance. Initiated by Commissioner Kevin Beckner, the draft ordinance respects both the workers and businesses with a focus on conciliation, which creates a faster, less expensive and more efficient process. Like Miami-Dade's ordinance, Hillsborough County's proposed ordinance creates a separate, less formal process that still has teeth but is neither dependent on nor burdensome to the existing legal system. Since Miami-Dade's ordinance went into effect in 2010, nearly 3 million dollars in lost wages have been recovered.
The practice is rampant in Florida where lower wage industries abound (like restaurant, lodging, retail, agriculture and construction). According to the report, Wage Theft: An Economic Drain on Florida – How Millions of Dollars are Stolen from Florida's Workforce,[i] Florida's six most populous counties accounted for the vast majority of wage theft cases. Miami-Dade was the worst, followed by Hillsborough, Broward, Pinellas, Palm Beach and Orange counties.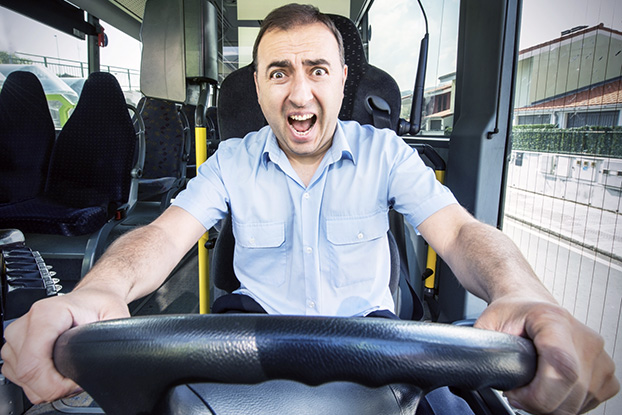 John was hired to drive a bus for a private charter school. As a contractor, he receives no benefits and pays all of his federal income tax obligations himself. However, from time to time, his employer withholds money for his check for "tax purposes."
Unfortunately, the amount stolen does not yet reach the threshold where he can file with the Department of Labor (and when he does, he will have to wait months before the process even begins). His only other option is to take his employer to court but that is an expensive as well as lengthy process. He needs his money now, not next year.
Those damaged by wage theft practices include, of course, the workers and their families. However, employers who abide by the rules, but who are located within the same industries as those who do not, are also damaged by the practice because they are put at a competitive disadvantage in the marketplace compared to employers who use wage theft as part of their business model in order to lower their costs.
Local communities are also damaged by wage theft. Money paid appropriately to workers – especially lower wage workers – is immediately re-circulated in the local economy through purchases. If lower wage workers are not paid appropriately, they can become dependent on public assistance, which increases the community's share of the burden.
Since the state legislature has failed to deal with the issue in a substantive way, local ordinances are the only way to protect workers and businesses. Wage Recovery ordinances have been passed in Alachua, Broward, Miami-Dade and Osceola counties and proposed for Hillsborough and Pinellas counties. Protecting working Floridians and their families should be the state legislature's first priority. In the meantime, counties will find ways to protect workers and level the playing field for businesses.
[i] See Cynthia S. Hernandez and Carol Stepick, Wage Theft: An Economic Drain on Florida – How Millions of Dollars are Stolen from Florida's Workforce. Available on the web at: http://www.risep-fiu.org/2012/01/wage-theft-how-millions-of-dollars-are-stolen-from-floridas-workforce/.
By

– April 28, 2015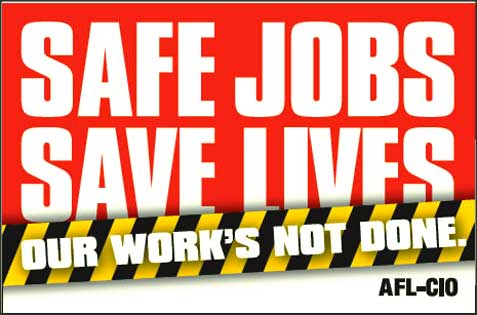 By Jeanette Smith – Executive Director, South Florida Interfaith Worker Justice
A new report prepared by the South Florida Council on Occupational Safety and Health highlights the number of workplace fatalities in Florida with a focus on Southeast Florida. Florida regularly places in the top three states each year for workplace fatalities with industry trends closely following the national trends.
The Bureau of Labor Statistics reports construction, transportation and warehousing, and administrative and waste services as the industries with the highest fatality rates nationwide and in Florida. BLS statistics report 239 deaths in Florida in fiscal year 2013.
An OSHA source cites 30 workplace deaths in South Florida from May 30, 2014 through September 30, 2014 with an additional 22 work-related deaths in Florida from October 1, 2014 through early February 2015.
Worker deaths range from a man being pulled into a wood chipper to another being buried alive at an excavation site. Many if not all of these workplace fatalities could have been prevented if employers and employees were adhering to OSHA workplace standards.
Employers should establish comprehensive injury and illness prevention programs to promote the identification and control of workplace hazards and an environment should be created in the workplace that encourages workers to speak up about workplace dangers in order to ensure both their safety and the safety of their co-workers.
By

– April 15, 2015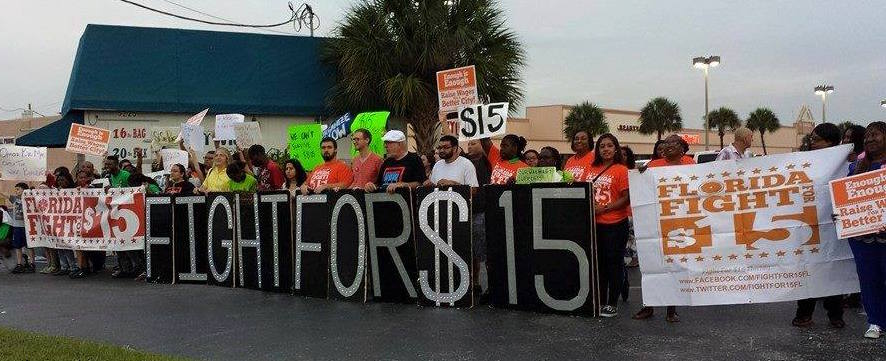 Megan Baker, Owner of Orange Blossom Jamboree and member of the Main Street Alliance of Florida.
Earlier this year the minimum wage was raised in Florida, but it didn't make a big splash in the news. Why not? Because wages for the lowest paid workers in the state were raised by just 12 cents, to $8.05 an hour. While 12 cents an hour has little impact on a family's budget, state officials praised the move saying that it would benefit nearly 400,000 workers across the state.
A minimum wage worker who works full time will now bring home a little less than a dollar a day. No wonder it didn't get much attention! As inflation drives up prices minimum wage workers struggle to afford basic essentials and that extra dollar a day doesn't even begin to cover expenses. Rather than seeking applause for tiny increases in the states minimum wage our legislators need to make serious changes to help workers in Florida make ends meet.
The Alliance for a Just Society recently released their report, "Rigged to Fail," that grades states on their support for workers and small business owners. Florida received an F, which isn't surprising to the 400,000 workers who received a tiny raise this past January. Too few workers earn a living wage, and the minimum wage falls short of providing enough for even a single adult to make ends meet.
Our states failure to raise the minimum wage by a noticeable amount is not just failing minimum wage workers; it is failing small business owners. Large corporations don't have the same relationship with their employees that small business owners do, we know our employees by name, and we care about their ability to get by. We often pay above the minimum wage while corporations remain disconnected with their employee's needs.
No one who is working full time should be living below the poverty line, but that's what our $8.05 minimum wage means for workers. Living below the poverty line means that obtaining even the most basic essentials is a daunting task. That is why many low wage workers are joining a national day of protests on April 15th demanding higher wages, and a chance to advocate for themselves on the job.
April 15th is a significant day to protest low wages because it is tax day. Leaving workers in poverty forces them to utilize government assistance programs that are tax payer funded. This means that tax payers are helping employees of the wealthiest corporations provide for their families.
Too often low wage workers become the target of angry tax payers who feel their taxes are too high, but they should aim their sights at big corporations. If the largest corporations used their massive profits to pay their employees a living wage then workers wouldn't need tax payer funded assistance, and we could all see a reduction in our tax bills.